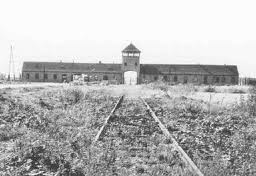 Brandburg is a small city in western Voerdeland. In 1890, Brandburg was destroyed by a rogue group of Khamulite military forces. It was in turn, rebuilt into the site of a major genocide committed by the Socialist State of Khamul, and is considered the identifying flaw that contributed to the collapse of Khamul and the rise of Pavlostani.
Notable happenings
Edit
In late 1890, the camps were brutally executing many prisoners of Voerdish, RCC, KCC, BCC, Jewish, Muslim, Roma or gypsy background, along with political dissidents, rebels, conservatives, homeless or common criminals. From 1890 to 1900, over thirty million people died in the camps. In 1901, a major death march was incited in which another half a million died. The march was in vain and the prisoners returned, not having accomplished anything. 
In 1903, during the height of the AMEN-Cooperation War, Pavel VIII gave the order to liberate the camps. SAF officers were deployed to free the camps. On August 10th, 1903, Pavel gave a speech at the now free camps, with representatives of the world attending. Brandburg was declared international territory, and was made a museum of the happenings there, so they could never be repeated again. The names of the dead were inscribed in the walls, floors and ceilings. 
Ad blocker interference detected!
Wikia is a free-to-use site that makes money from advertising. We have a modified experience for viewers using ad blockers

Wikia is not accessible if you've made further modifications. Remove the custom ad blocker rule(s) and the page will load as expected.