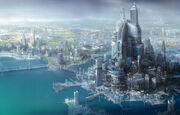 General Summary
Edit
Ixtaccihuatl is the most economically powerfull, Industrialized and fortified city in Inesea. It is located on the Island of Ixtaccihutal, specifically on the western half of the island. It is the center of Inesean Marititime Industry, and the largest center of Industry in Inesea. There is also several major Naval and Aerial Bases ear and Sonor Line of Sight arrays. 
Geography
Edit
Ixtaccihuatl is located on the western edge of Ixtaccihuatl Island. The actual city is 100 Square miles large and the surrounding area adds another 130 square miles. The City is split between the main island proper and sometimes connected sometimes not 5 square mile plot of land. Over the years, the port grew over this area, creating the effect of a 'floating' city that often panics new immigrants. One major river, the River Yuan, bisects the city. Several minor rivers run around the edges of the town. 
Ixtaccihuatl is one of the two Industrial Cities of Inesea. This means that it has no agriculture within 25 miles of it, and boasts a massive Industrial base. Ixtaccihuatl is home to several major Maritime Corporations, specifically Harbor Enterprises and Ixtaccihuatl Manufacturing Yards.
Ixtaccihuatl boasts massive port facilities capable of handling millions of tonnage of goods every day. Nearly 2 dozen Dry Docks are hear, ranging from Super Cargoship sized behemoths to small, frigate sized slots. the city also boasts a massive ship yard, where hundreds of hulls are made each year.
Many factories here produce replacement parts for oceangoing vessels. However, Ixtaccihuatl also holds the Inesean Rifle Group's factories. In these factories, Inesea's military large arms are made.
Fortifications
Edit
Well not directly fortified, the City of Ixtaccihuatl is surrounded by fortifications and air bases. There are over one hundred (100) Coastal Defense Batteries. They are placed in dual casemates on the coastal areas. There are also disappearing turrets inside the port ranging from 18 pounders to 75mms.
Fort Mackelmore is a major naval base in Inesea. It is located inside the port. There many warships can be found. From here, Inesea controls the Northern Vitus.
Ad blocker interference detected!
Wikia is a free-to-use site that makes money from advertising. We have a modified experience for viewers using ad blockers

Wikia is not accessible if you've made further modifications. Remove the custom ad blocker rule(s) and the page will load as expected.