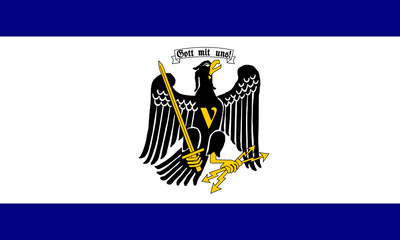 The Vitzburgian Royal Arms Manufacturer has created arms and armor for Vitzenburg for centuries. It was created at the turn of the 17th century by Kaiser Bronson the Like-Minded. It began taking private contracts in 1843 when the company CEO negotiated a contract with Kaiser Felix III. It has created cutting edge weapons and armor along with other items utilized by a military force.
The company has created many weapons, but listed here are only the most recent beginning with 1887.

Service 1887-present
Cartridge .303 Burgian
Action Gas-operated
Rate of fire 500–600 rounds/min
Muzzle velocity 740 m/s
Effective range 500 m
Maximum range 3,200 m
Feed system 20 round magazine or 47 drum magazine (Entered service 1891)
Sights Aperture rear sight, barleycorn-type front sight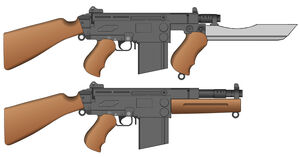 S2-W2/1 Trench GunEdit
Cartridge .303 Burgian
Action Gas-operated
Rate of fire 500–600 rounds/min
Muzzle velocity 740 m/s
Effective range 50 metres
Feed system: 20 round magazine or 47 drum magazine
Sights: Aperture rear sight, barleycorn-type front sight

L5-W3 Long RifleEdit
Cartridge .303 Burgian or 13.2 mm Vitzersch
Action Gas-operated, rotating bolt
Rate of fire semi-auto
Effective range 500 m
Feed system 10 round box magazine
Sights various mounting sniper sights and back-up iron sights
Cartridge 13.2 mm Vitzersch
Action Short recoil-operated
Rate of fire 750–850 rounds/min
Muzzle velocity 890 m/s for M33 ball
Effective range 1,800 m
Maximum range 6,800 m
Feed system Belt-fed (M2 or M9 links)
VolkssturmgewehrEdit
Weight 4.6 kg
Length 885 mm
Barrel length 378 mm
Cartridge 7.92×33mm Kurz
Caliber 7.9mm
Action Gas-delayed blowback
Rate of fire Semi auto
Effective firing range 300 m
Feed system 30-round detachable StG 44 box magazine
Bergmann PistolEdit
Weight 1.13 kg
Length 254 mm
Barrel length 102 mm
Cartridge 6.5mm Bergmann
Action Blowback
Muzzle velocity 380 m/s (nº 3)
Feed system 5-round fixed magazine
Sights Fixed
KM-09 "Bone Mill" Light Automatic RifleEdit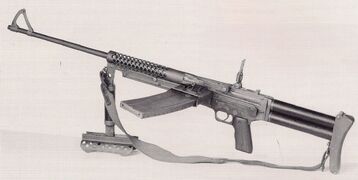 Weight
9 kg
Length 1,280 mm
Barrel length 670 mm
Cartridge .303 Burgian
Action Gas-operated
Rate of fire 500–600 rounds/min
Muzzle velocity 740 m/s
Effective firing range 800 m
Maximum firing range 3,200 m
Feed system 50 round detachable box magazine
Sights Blade and tangent leaf
Vitzburgian troops go into battle utilizing some of the best equipment, but when not even that's enough, they call in the heavy troops.
Mk I Super Heavy ArmorEdit
The Mk I Super Heavy Armor started developement in 1873, a bank had found a very early prototype built by a farmer in a barn on forclosed land. The VRAM took interest and seized the prototype, beginning officially classified development. The first units ready for combat became available in 1891, just in time for the Voerdeland Crysis. It was their baptisim of fire and the suits struck fear into the hearts of it's adversaries. Though it became apparent that they were not an optimal replacement for the common soldier, and so began a new project to cut it down to size. In 1910, they are still used by Vitzenburg.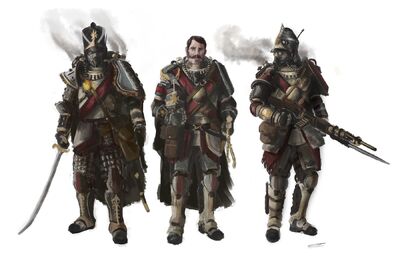 Mk II Individual Motorized ArmorEdit
The Mk II armor entered development in 1892 when it was obvious that the Super Heavy Suits were not economical to replace the veteran soldier. It gives the wearer excellent protection, giving them the protection of a light tank. It requires time to learn how to use and it is ineffective for reconaissance troops and special forces.
Vitzburgian Royal Arms Manufacturing VehiclesEdit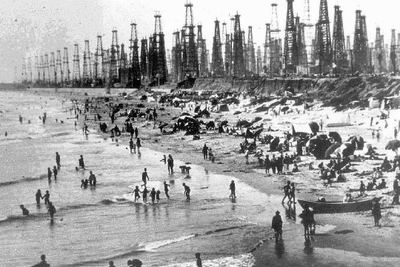 Gußolen was one of the first innovations of the Coop. It burned hotter and longer than Kerosene, but required more petroleum for refinement. Acting quickly, the government quickly siezed the lands of famed Vitzburgian entreupaneur Rudolph Fulton, known for his extensive kerosene business. Many derricks were erected on Botany Beach, as it was rich with oil reserves that was only tapped by a few of Fulton's derricks. Vitzenburg now looks to expand it's oil and Gußolen production.
The properties of Gußolen are highly reactive. If exposed to Oxygen quickly, the Gußolen react with explosive combustion, causing massive damage. It will cause severe burns if it touches bare skin and the fumes it emits are toxic after prolonged exposure. In 1907, a military convoy was retrieving a shipment of Gußolen from a refinery, a wagon broke drown and spilled several barrels of Gußolen. The sudden exposure to oxygen caused explosive combustion and a chain reaction resulting in the entire refinery and hundreds of death. Since then, precautions have been taken to keep Gußolen safe such as hermetically sealed, triple walled barrels and other precautions.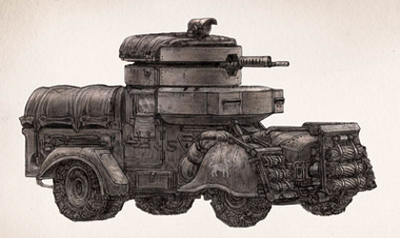 V-1 TechnicalEdit
The V-1 Technical is considered one of the most important innovations of the Vitzburgian military. Top military leaders had scoffed at the idea of wheeled vehicles being used on the battlefield for anything other than carrying wounded off of the field. They promptly ate their words when the this modified truck successfully defeated a group of armed convicts in a research battle. It was the first wheeled vehicle officially accepted into the Vitzburgian armed forces in 1905.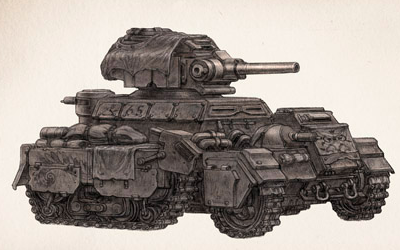 V-1 Light TankEdit
After the V-1 Technical, the V-1 Light Tank was shortly developed, using information donated by the Vitzburgian benefactors the "Black Shield", the joint research team finally developed Vitzenburg's first tank, one of the last on earth to do so.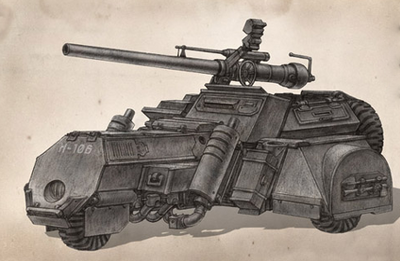 V-1 Recon TrikeEdit
The V-1 Recon Trike is based off the civilian motorized bicycle. Early prototypes found that if the design was stabalized by a third wheel, it would allow for the vehicle to serve multiple roles. Primarily, it fills a scouting role, being used by Vitzburgian scouts to quickly get in and out of areas at high speeds. It is also used to transfer documents too important to be transfered over wire quickly.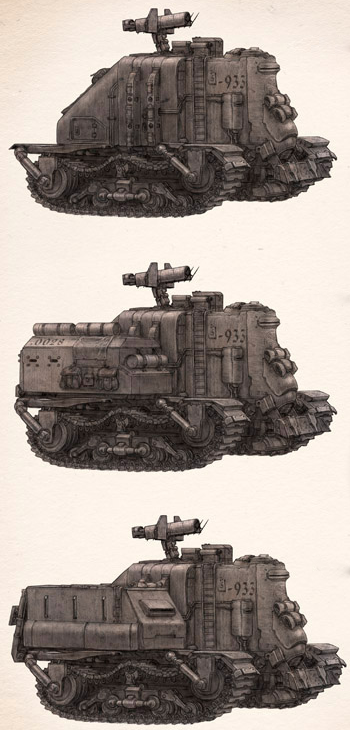 V-1 "Bear" TransportEdit
When it comes to transportation, the Vitzburgian army has always relied on the tried and true method of horse and wagon or the use of boats. Now, as their equipment becomes heavier and more sophisticated, it was quickly found that horse and wagon would no longer do on land. The need for a strong and steady became top priority in 1907 when a catastrophic failure of a horse drawn wagon resulted in a Gußolen refinery explosion and hundreds of deaths.
In response to the mission, the V-1 Transport was developed and unvield in early 1908. It had the horsepower and protection that the Vitzburgian military was looking for. It gained it's nickname "Bear" for the low rumbling of it's engine that sounded much like the growl of a Vitzburgian Forest Bear.
The V-1 Bear is a behemoth, a fully loaded infantry transport can carry 4 squads (uncomfortably) in it's hold, not including the crew of 5.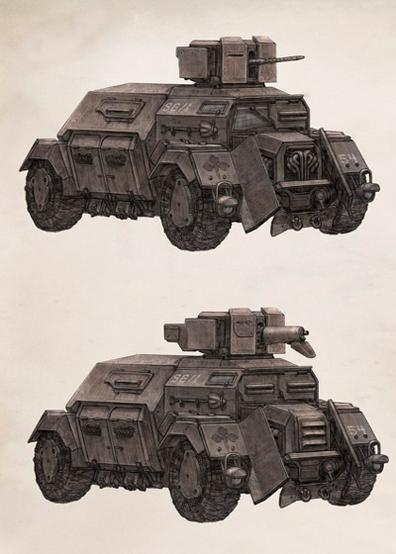 V-2 Wagoneer
The V-2 Wagoneer is the child of the V-1 Techincal. It was developed with actual combat in mind and has upgraded mechanics. It is not due to replace the Technical for another decade but in 1908 it replaced the Technical in the armed forces. The Technical is still used by urban security forces in Vitzburgian cities though.
Wagoneers are comonly used by MP's and officers to travel around at a fast pace in a safe vehicle. It's uses on the battlefield are rapid deployment for reinforcements and a flamethrower variant.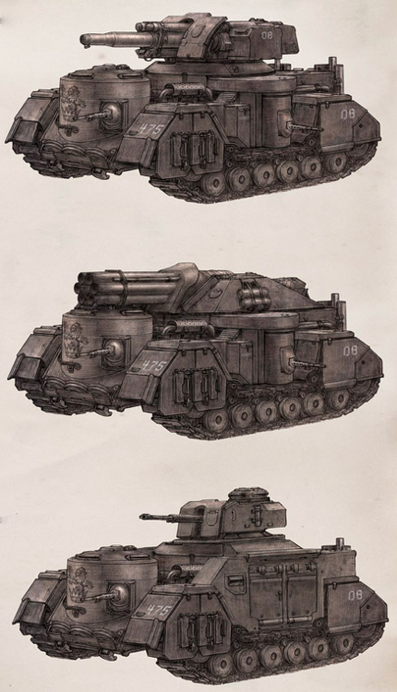 V-2 Dreadnought
The V-2 Dreadnought is the improved version of it's older, littler, brother. Heavily armored and armed, this behemoth can stand it's own in any fight. Several variants where developed, the most common type being the Assault Variation (See top). 
Hellfire Dreadnoughts (See Middle) are utilized in urban settings, mainly used to decimate urban structures and defenses. It was also developed to lead in scorched earth tactics.
The last is the lightest armored of all variants, the Troop Carrier. They do not have the same capacity as the "Bear" but are faster and may be used to deploy squads to combat zones.
PzH Kaiser's FistEdit
Developed to meet the high demands of the new technical age, the Kaiser's Fist Bombardment Artillery Gun meets the demands of the Vitzburgian Army. Sharing qualities with the old Bombards used to bash city walls to smithereens, these new weapons are primarly used to suppress enemies and destroy fortifications. Immense damage can be caused by a barrage and not much is safe when the unmistakable belching in the distance begins to roar.
PzH Kaiser's SlapEdit
A smaller artillery, more maneuverable and more conventional than it's bigger brother. While the Kaiser's Fist lumbers along, the Slap can move fast enough to keep up with mechanized infantry and tank divisions.